It's been two years since I got an LG 34WK95U-W, and although it is still my main desktop monitor, my office needs keep changing.
This year I realized that I was not enjoying being in the office (not really surprising considering what has been going on), and that I needed to make it more enjoyable. I also decided to get rid of all the clutter that inevitably results from my constantly switching between laptops and take back some desk real estate.
So I made some changes. One of them was to finally mount the LG 34WK95U-W onto a monitor arm. This alone got me back over 10cm of usable desk depth-wise. But I also wanted to remove all computers from by desk and make things easier to manage when I wanted to have low-key personal stuff running throughout the day (like long 3D prints or conference videos).
The big change, though, was to rotate out the LG 29WL500-B I was using as a secondary monitor (and for my thin client) to family and get an LG 28MQ780-B, more commonly known as the LG Dual Up: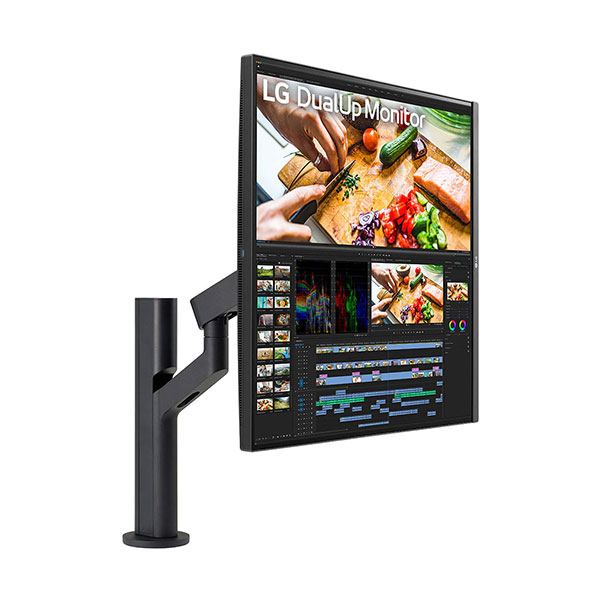 The reason I picked the Dual Up was, as usual, a mix of serendipitous timing on a deal, the specs, and the fact that it effectively works as two LG 29WL500-Bs.
This means I can split it into two 2560x1440 inputs, which is a pretty nice improvement right off the bat. But its full 2560x2880 resolution is nearly three times the 2560x1080 I can have on the LG 29WL500-B, and that certainly makes a difference when using the panel as a single unit.
Like the LG 34WK95U-W, the Dual Up has a few nice features–power delivery via USB-C (90W, handy if I need to plug in a laptop), DCI-P3 color gamut, a 1000:1 contrast ratio, etc. It's "just" 60Hz, but I'm not a hardcore gamer and this isn't the kind of monitor that you would game on anyway.
But the better part of the current setup is simplicity–I have both monitors plugged into an M2 Mac Mini (something I'll write about later), both via Thunderbolt/USB4, and this simplified cabling a lot–all my peripherals are plugged into the monitors via a pair of Anker USB 3 hubs, and even though I also have HDMI running into the Dual Up for the u59 and a spare input, cables are almost invisible.
Things You Should Know
This thing is an Excel user's wet dream–more than wide enough for most sheets, seemingly endless height.
Like I mentioned already, panel can be split vertically into two 2560x1440 inputs, which is just great for having two wide desktops top and bottom (and Barrier works great for sharing the mouse and keyboard between them).
The Ergo arm will bolt onto an 7.5cm thick desk (mine is a converted dinner table), but you will have to tweak the mounting clamp–I had to literally re-assemble it in place. I was prepared to re-use an existing arm, but fortunately that wasn't necessary.
However, it will be a bit challenging to cable manage 2 HDMI cables, the power cable, an USB cable and an audio cable through it. Be patient and try to get the connectors through all the holes one step at a time.
If you do a lot of video-conferencing (like I do), this is the perfect second monitor since putting a camera atop it will make it far too high above your eye line. But if you're using the full panel and can put the camera right up next to it, you can put Teams or Zoom on it full screen and have larger than average camera views of your team above a full res presentation.
The built-in USB hub is great, but the ports are too high up to be practical for desktop-bound peripherals. Again, this Anker USB 3 hub is just perfect to stick on the back and make ports more accessible–I have my Stream Deck and MIDI keyboard plugged into it, with the Stream Deck peeking out from under the monitor and a custom cable for the keyboard with an on/off switch.
So far, it's been two months and I'm very happy with this setup. I've settled into a routine where I will have the Dual Up running conference videos or "passive" calls on the top half, and use the bottom half for IM, email, and other things I need to keep an eye on while I use the ultra-wide for actual work.
Occasionally I'll split the Dual Up into two 2560x1440 inputs and use the u59 or plug in a Raspberry Pi for setup, although the Pi 3 has trouble using the full resolution.
As to more prosaic productivity use, I've found it to be great for CAD and reference materials. I've also popped a couple of complex Word documents on it for review, and it's plenty wide to be comfortable for that kind of thing, but I'm not sure I would want to do that on a regular basis–the LG 34WK95U-W is right there in front of me, and although my neck is fine, I'm not sure I would want to be looking sideways for hours on end.
But I've found that having both monitors (mostly) plugged in to one machine and having the freedom to re-arrange things according to context without vertical or horizontal constraints is a great way to work.
So when someone asks you if they should get an ultra-wide or a portrait monitor, the proper answer is "why not both?".