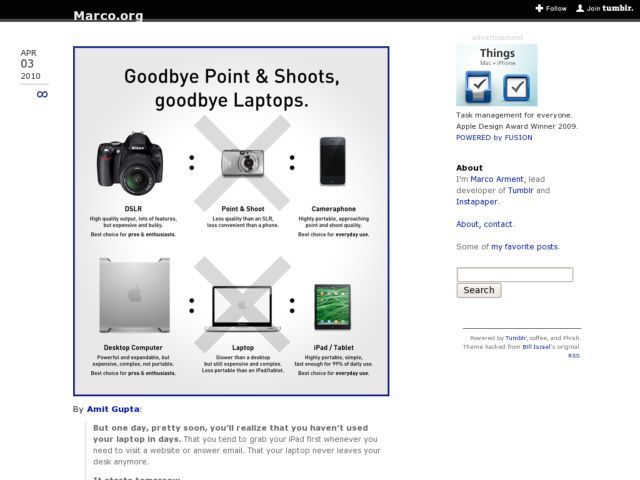 The diagram is very neat and I get the enthusiasm with which it's spreading (plus I've been living off a mini and an iPod for nigh on a year), but I disagree that the point-and-shoot is being superseded by phones - most CCDs on cameraphones are on the far side of crappy, and a cheap low-end point-and-shoot blows them right out of the water any day.
Update: here's some pretty biased feedback that uses "data" (ooh, data must be facts, right?) as an excuse for ignoring the convenience of having a data connection built-in to your phone (i.e., phones aren't popular on Flickr because they are "good enough", they're popular on Flickr because you can just upload the photos in on the spot).
Since I go through more phones in a month than most people do in a few years, I am constantly underwhelmed at the way the megapixel race manifests on those, with sub-standard CCDs that are high-res but hampered with response curves that make them worthless on any but outdoor sunlit environments and optics that might as well be made of plastic for the distortion they add.
A case in point: I take photos of my kids every day with a cameraphone, sure (for sharing with family via MMS), but the ones I keep and show off are the ones from my point-and-shoot. I don't dig out my SLR for every shot, but I keep my point-and-shoot ready because the quality is archive grade (for my standards at least), it allows me enough manual control over exposure and aperture to make do and I think about photography as being more than sharing ephemeral junk.
So if I were to expand further on this topic, I'd say that the SLR is the one going the way of the dodo as micro four thirds and increasingly competent PPS cameras (like the Canon S90 or the DMC TZ7) start taking over the middle ground.