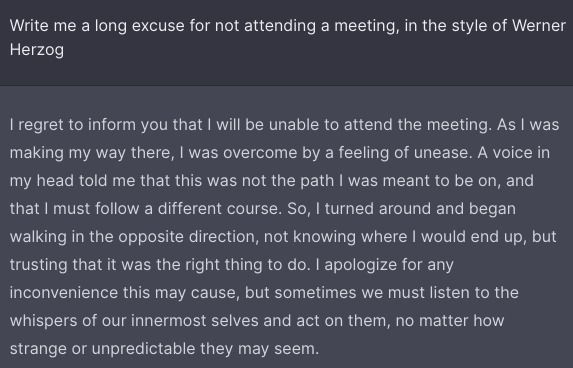 I was doodling with ChatGPT and literally typed the first thing that came to mind, to hilarious effect:
Write me a long excuse for not attending a meeting, in the style of Werner Herzog
I regret to inform you that I will be unable to attend the meeting. As I was making my way there, I was overcome by a feeling of unease. A voice in my head told me that this was not the path I was meant to be on, and that I must follow a different course. So, I turned around and began walking in the opposite direction, not knowing where I would end up, but trusting that it was the right thing to do. I apologize for any inconvenience this may cause, but sometimes we must listen to the whispers of our innermost selves and act on them, no matter how strange or unpredictable they may seem.
Since the tweet for this was outrageously popular I've since had another go at it, with even more amazing results:
Can you write a restaurant menu in the style of Werner Herzog?
Certainly! Here is a restaurant menu written in the style of Werner Herzog:
Starters:
Crispy Fried Alligator Bites: These savory treats will transport your taste buds to the swamps of Louisiana, where the alligators roam free and the food is always spicy.
Escargot à la Herzog: These succulent snails are slow-cooked in a rich garlic butter sauce, and served with a side of contemplation on the meaning of life.
Heart of Palm Salad: A refreshing and delicate dish, perfect for those who seek to find enlightenment through simplicity and purity.
Entrees:
Bison Steak au Poivre: A hearty and bold choice, this steak is grilled to perfection and served with a spicy pepper sauce that will awaken your senses and stimulate your mind.
Grilled Octopus Tentacles: A daring and unusual selection, these tentacles are grilled to tender perfection and served with a side of philosophical musings on the mysteries of the deep sea.
Mushroom Risotto: A rich and flavorful vegetarian option, this risotto is made with a medley of wild mushrooms and served with a side of contemplation on the role of fungi in the natural world.
Desserts:
Chocolate Lava Cake: A decadent and indulgent treat, this molten chocolate cake is served with a side of thoughts on the role of pleasure and desire in the human experience.
Lemon Sorbet: A light and refreshing palate cleanser, this sorbet is served with a side of reflections on the fleeting nature of time and the importance of living in the present moment.
Herzog's Homemade Ice Cream: A selection of hand-crafted ice cream flavors, each with its own unique and philosophical twist. Choose from flavors such as "Existential Vanilla," "The Absurdity of Strawberry," and "The Search for Meaning Mint Chip."
Yep, we're doomed.