The Kindle is Amazon's e-book reader, originally gifted with plain e-ink display and EV-DO connectivity.
Today, the range includes Android-based (but locked) tablets, the original model of which was based on the same hardware reference designs as the BlackBerry Playbook.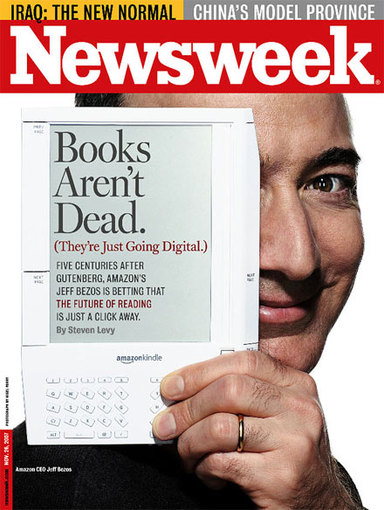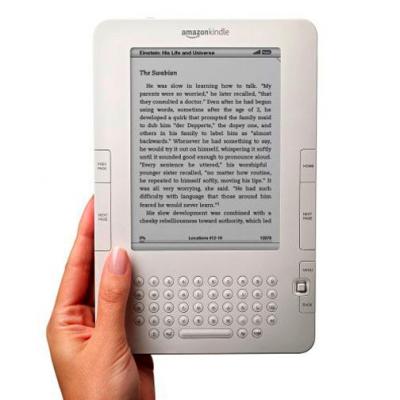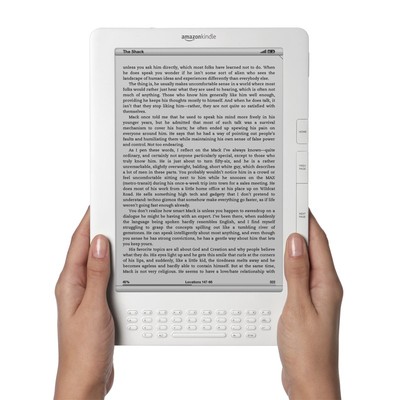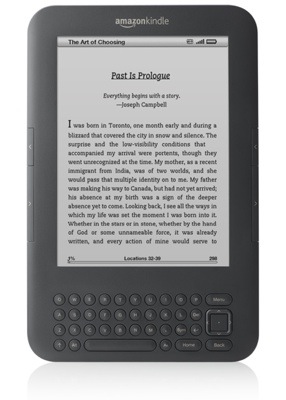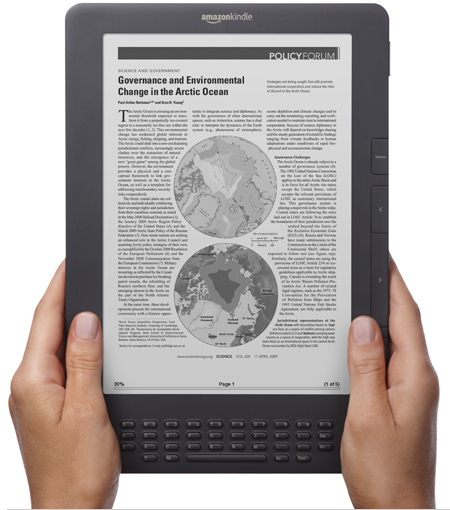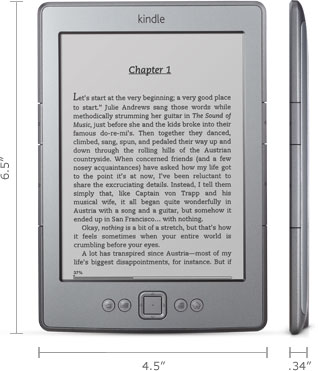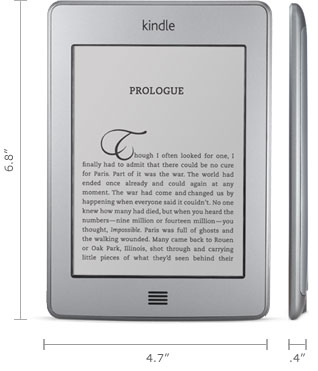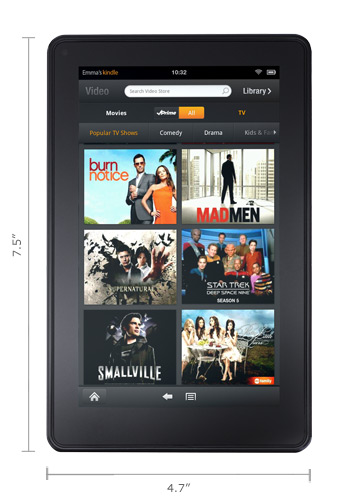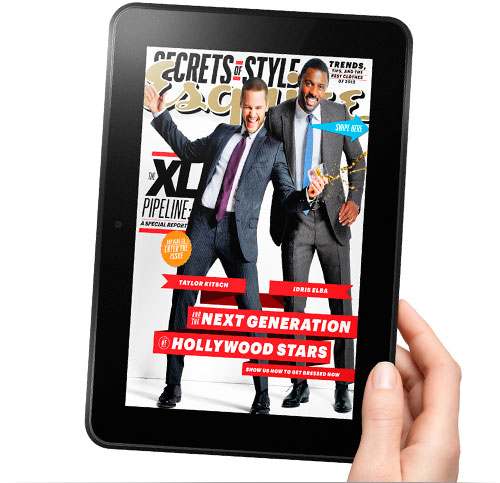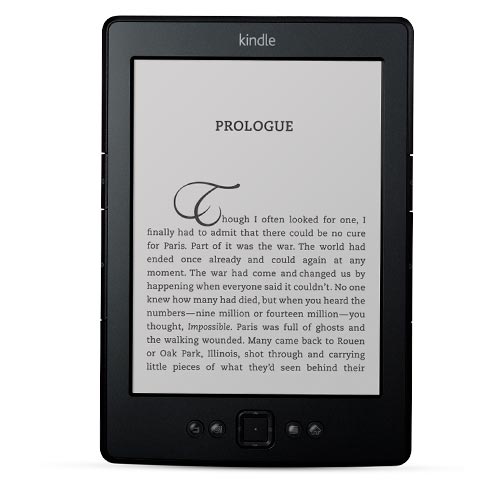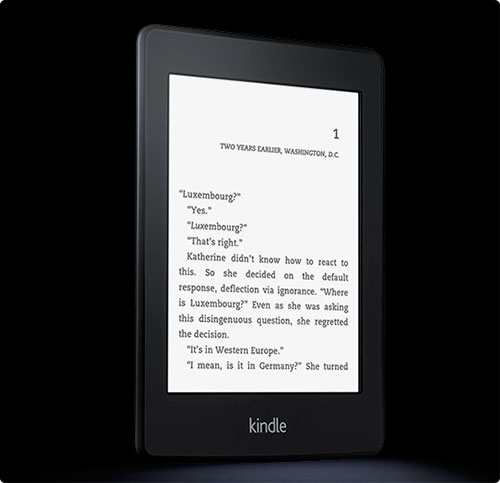 Resources:
Date
Link
Notes
2011
Sep 29
Amazon's Tablet Leads to Its Store
A decent summary.
2010
Jul 28
New Amazon Kindle announced: $139 WiFi-only version and $189 3G model available August 27th in the US and UK
Looks very good. I'm going to wait and see what people say about the browser.
Jul 20
Kindle Sales Triple
Impressive.
Jul 07
Amazon's graphite Kindle DX now shipping
Must… hide… credit card.
Jul 02
E Ink explains the new Pearl display used in the updated Kindle DX
Hmmm.
Jul 01
Graphite Kindle DX coming July 7th for $379, now available for pre-order
Graphite. Hmm.
Amazon cuts the giant Kindle DX price to $379 from $489 and includes better-contrast display. Still a niche tool comp…
Now this is interesting…
Jun 30
Kindle's 70% Solution
With delivery costs. Hmm.
Jun 21
Amazon's Kindle conveniently falls to $189, Nook looks stunned and bitter
Makes it a lot more interesting.
Jun 15
Kindle 2.5 firmware now available for keepsies
Took them long enough.
Jun 10
Kindle 2.5.2 firmware available for manual update, but only for international types
For international devices only.
Jun 03
Kindle 2.5 update pushed back a few weeks for some 'small adjustments'
Probably some teething issues.
May 31
Slim Kindle 'Shasta' to be first with WiFi?
Makes a lot of sense, and will likely push down the device price.
May 29
Amazon Kindle slimming down in August?
Would help if it was more widely available.
May 24
Amazon's Kindle 2.5 software update begins to roll out
Interesting.
May 18
Kindle for Android
Worth looking into.
May 07
Kindle's social networking-friendly 2.5 update gets an early preview
A bit more detail.
Kindle 2.5 hands on: social networks, passwords, and more
I have to wonder how far they want to take this.
Apr 29
Kindle version 2.5 update gets Facebooked and Twitterized
A social Kindle?
Apr 22
Kindle officially going on sale at Target on April 25
Now this is interesting… I wonder if they'll do an European retail deal with the likes of

FNAC

…
Jan 21
Amazon Opens Kindle to Developers, Changes Royalties
They saw the freight train coming.
Feb 08
More Authors Signing Exclusive Kindle Deals
Jan 20
Amazon hikes Kindle royalties to 70%, with a catch
Amazon to start paying 70 percent royalties on Kindle books that play by its rules
Jan 06
Amazon Kindle DX with global wireless: ships January 19th for $489
I keep wondering what's keeping them from shipping these babies from the UK or Germany…
2009
Dec 27
Kindle most gifted item in Amazon's history, e-books outsell physical tomes on Christmas Day
Hardly a surprise.
Dec 25
Amazon Kindle gets its

DRM

stripped
Predictable.
Dec 23
Hackers break Amazon's Kindle

DRM

unswindle is already getting popular…
Dec 07
Amazon beefing up Kindle's functionality for vision-impared users as B&N's Nook stays silent
Seems like a logical step forward,
Dec 06
Questions for Jeff Bezos
48 e-copies for each 100 sold… Not bad.
Nov 30
Kindle is the biggest selling item on Amazon, bests sliced bread
I wonder if it sells better than whole wheat bread.
Nov 26
Kindle 2 finally gets native

PDF

support, screen rotation
A lot more info on the updates.
Nov 25
Amazon promises update to better 'organize Kindle libraries'
I suppose they expect to have people buy hundreds of books.
Nov 25
Kindle 2.3 software update available, generation 1 owners need not apply
I'm still waiting for a completely European DX edition.
Nov 25
Kindle firmware update promises 85 percent battery boost, native

PDF

reader
Okay, so there was something clearly wrong with power management after all… Nevermind

PDF

support (which ought to have been there all along), I've always found it weird that my friends with a Kindle complained about battery life…
Nov 12
Will Amazon's Kindle Software Kill the Kindle Hardware?
No. I sometimes wonder if jkOnTheRun was added to the GigaOm network just to ask obvious questions and grab page-views by replying to them at length, but that may be just my cynicism creeping up on me.
Nov 11
Amazon Kindle for PC: Now delivering books to your desktop
US-only. How quaint.
Kindle for PC adds flexibility, but not a whole lot more
Summary: not worth the trouble.
Oct 24
Kindle software coming to Mac OS X
I'm frankly curious, but use too many computers for comfort and, given the issues about international pricing, won't spend a dime over what a regular Amazon purchase would cost me.
Oct 23
Amazon Kindle for PC available 'soonish'
Not that I expect this to be as useful as the mobile versions, but it's an interesting twist.
Amazon Hobbles Features For International Kindle
The bit about their delivering content without any photos just has to be a bug – otherwise, they're just killing their own product.
Oct 22
Amazon's international Kindle surprises owners with $20 refund, limited web browsing
So they're coming to their senses – to some extent. Let's see if the international edition of the DX will have proper browsing, otherwise I'll certainly go for the burgeoning competition…
Oct 21
Who Named the Kindle (and Why)?
Interesting.
Oct 14
International Kindle won't let you use terrible web browser overseas
I wonder if they will change this if they do a decent Euro version
Oct 9
Amazon confirms international Kindle DX is on the way too
A lot more interesting. Now they only have to make the pricing more sensible.
Oct 7
Kindle now $259, available worldwide with wireless delivery
I'll wait for the DX and full integration with the UK store…
Amazon Cuts Kindle Price, Offers Internation Edition
Oct 1
Kindle coming to the UK in October? Amazon might just tell us next week
Of course they will. It's been brewing for months.
Jul 24
Jeff Bezos issues humble apology over pulled Kindle title
Might not be enough to save face, though.
Jun 19
Amazon Kindle DX Review
Bigger. Faster. Stronger. Worse keyboard.
May 25
Kindle formatting for web geeks
Some interesting notes on how it handles

HTML

markup.
May 7
Dallas Morning News To Senate: Amazon Kindle Is Not A Business Model For Newspapers
Me, I like their business model.
May 6
The Kindle Lets Amazon Make a Lot From the Few"
The

ARPU

from Kindle users must be amazing.
Amazon Kindle DX announced: $489, ships this summer
Includes a gallery.
Amazon Kindle DX first hands-on
Not that exciting.
Amazon supersizes Kindle for textbooks, newspapers
No Wi-Fi, no expansion, and I wonder why it doesn't have a 2-up mode when rotated, but the

PDF

support is a nice add-on.
May 1
Informal poll suggests nearly 70% of Kindle owners are over 40
Strange. Here's a copy of the graph:

Apr 22
iSuppli: $359 Kindle 2 costs $185 to build, Whispernet says shhh
The overall value seems about right, although the Novatel module price is for a fairly high-volume tier
Mar 9
Kindle 2 Usability Review
"Jakob Nielsen":Wikipedia:Jakob_Nielsen weighs in.
Feb 28
Amazon Gives In To Ridiculous Authors Guild Claim: Allows Authors To Block Text-To-Speech
Just sad. But the enlightened ones won't be stupid and stingy.
Amazon sorta capitulates, will let publishers decide text-to-speech availability
Amazon Caves On Kindle 2 Text-To-Speech


Feb 26
Evolution yields revolution: the Kindle 2
Pretty thorough review.
Why Kindle 2's Screen Took 12 Years and $150 Million
Interesting discussion regarding this interview on E-ink.
Amazon Kindle 2 review
Nice gallery and close-up shots.
Feb 25
Kindle's Text to Speech Under Fire
And it just goes on and on…
Further signs point to an international Kindle
Now this is a lot more interesting…
Feb 24
Kindle 2 dissected, found to contain space for a

SIM

card
Of course, it's not that simple – you need a lot more electronics than just a card reader…
Kindle 2 First Look
Complete disassembly, with loads of pictures.
Feb 11
Know Your Rights: Does the Kindle 2's text-to-speech infringe authors' copyrights?
This has got to be the stupidest legal issue regarding ebooks, ever. What about visually challenged folk?
Feb 9
Hands on with Kindle 2: what a difference a screen makes
Apparently, the screen is improved. However, there are mixed opinions on that.
Kindle 2: Slimmer, Smarter
In which we read that 10% of Amazon sales seem to be Kindle books
Amazon Announces Kindle 2 Ebook Reader
Good (if biased) overview
Amazon revamps Kindle, hints at bigger things to come
Not much to come, really, but comprehensive article nonetheless
Kindle 2 first hands-on!
Nothing much to see, really, although the response time seems good.
2008
May 18
Amazon Kindle Review
Very detailed review
2007
Nov 23
Bookishness
On the device's lack of ergonomics and style
Nov 22
Amazon Kindle sells out on debut
Sold out, sure, but how many?
Nov 19
Amazon Kindle first hands-on
A small gallery
Nov 19
The Future of Reading – A Play in Six Acts
Mark Pilgrim, in his inimitable style, rips through the

TOS

.
Nov 18
The Future of Reading
The Newsweek piece that started it all.