The 7710 is another Series 90 device: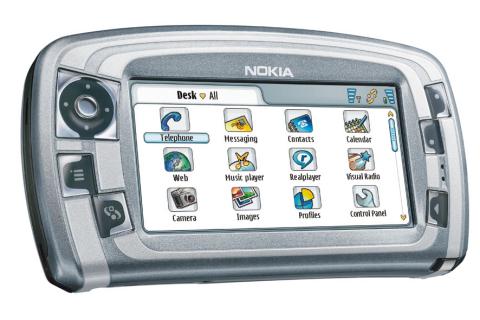 Notes
Pluses:
Very hi-res, very readable screen.
Good Opera browser.
Good pen recognizer (supports accented characters, is moderately fast, but with a very small recognizer window).
Contacts and Calendar migration from a 9300 was seamless.
Built-in e-mail client worked first time, supports HTML mail.
Minuses:
Big, Bulky, Slow.
No numeric keypad, screen gets dirty after a single phone call.
Bad UI design, full of "cool" frilly decorations that make a mockery out of Fitt's Law
Awfully short battery life.
Runs out of RAM after a brief while.
SDP Server, OBEX File Transfer, Nokia OBEX PC Suite Services, NokiaSyncMLServer, OBEX Object Push, Dial-Up Networking, Hands-Free Audio Gateway, SyncMLClient
HTTP Headers:

HTTP_ACCEPT_CHARSET  windows-1252, utf-8, utf-16, iso-8859-1;q=0.6, *;q=0.1
HTTP_ACCEPT_ENCODING gzip,deflate
HTTP_ACCEPT_LANGUAGE en
HTTP_USER_AGENT      Mozilla/4.0 (compatible; MSIE 5.0; Series90/1.1 Nokia7710/3.04.2 Profile/MIDP-2.0 Configuration/CLDC-1.0)
HTTP_X_WAP_PROFILE   http://nds.nokia.com/uaprof/N7710r100.xml
Resources: